About

Castle CRM (www.acastle.com), provides Business Solutions for your sales, marketing and customer service organizations. Based on your business focus, we develop business solutions based on clear strategies, streamlined business processes, utilizing leading edge technologies. Our strategy focuses on the long term by aligning efforts to core business objectives, using tools and techniques that generate significant near term return on investment. Leading edge technologies enable your success. We don't just implement the right technology - we provide the critical bridge between business strategy and business solution. We integrate with your infrastructure, support key processes, offer innovative functionality, meet security requirements, and ensure user adoption.

With SalesLogix CRM, you can proactively manage all of your customer interactions to gain the business insights you need to make smart, strategic business decisions. Castle CRM has over 30 years experience in designing and implementing business solutions, and is recognized by Sage Software for achieving the highest rate in customer retention. Our business solution services and professional services include:

Business Solutions:

Strategy Development
CRM Strategy Development
Sales Process Development and Re-engineering
Opportunity Management and Process Optimization
Lead Management Solutions

Professional Services:

System Development
System Integration
Business Analysis Assessment
Technology Needs Assessment
Executive Reporting and Dashboards
E-Mail Marketing

Castle CRM (www.acastle.com), located at 44 Wall Street in New York City, Castle CRM, provides consulting services for companies seeking a new business strategy and a CRM software solution to attain better results through workflow automation and process simplification around their customers.

We know what it takes to deliver leading edge business solutions and superior customer service to help our clients' succeed. We continually strive to bring knowledge and new ideas to our customers. In partnership, we deliver inventive solutions to enhance their competitive advantage.

Castle CRM is a SalesLogix Premier Business Partner. For more information on Castle CRM contact information@acastle.com
Status

Private Company
Company History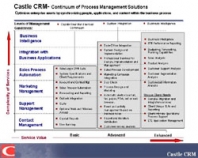 Located at 44 Wall Street, New York, NY, 10005, Castle CRM is the leading provider of Customer Relationship Management solutions helping organizations of all sizes optimize their valuable resources —people, processes, and technology - to create outstanding experiences for their customers and long-term competitive advantages over their competitors.

Our CRM, business intelligence, and data integration solutions reflect our 30 years experience with over 1,000 organizations. Our clients rely on our business analysis expertise and our track record for delivering dramatic improvements in their business processes.

Our consulting and implementation services are designed to help you achieve your company's desired business results. Our experts will work closely with you to implement an end-to-end solution that transforms your unique strategy into measurable business results.

Castle CRM has made considerable progress toward creating a company that will endure and prosper far into the future. Several factors have contributed to this remarkable record of success, but one stands above all others: our unwavering commitment to a set of core values. An absolute devotion to customer satisfaction. Courtesy. Professionalism in everything we do.