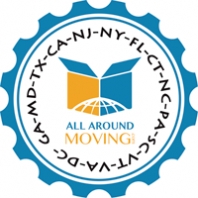 Easy Moving - All Around, All the Time.
Fully equipped professional services make relocation a breeze.
When you are planning to move a household or a business, All Around Moving Services Company, Inc. New York City based moving company is equipped to help with every detail, making every move smooth, secure and worry free. No move is too large or too small, and no move is ever turned down, regardless of size, origin or destination. Whether local, long-distance, interstate or international, All Around Moving arranges fully insured professional movers and motor carriers who know the roads and regulations and provides the right experts for special moving needs to safely bring household goods, cars or office furniture to anywhere they need to go.
International moves are handled as easily as local moves. Wide outreach to the very best of international movers guarantees trouble-free international relocation from New York, New Jersey, Connecticut, Boston MA, Miami Florida, Houston Texas and Los Angeles California. All Around Moving arranges for overseas ocean containers, shipping palettes for smaller loads and prepares all necessary details for freight forwarding, warehousing, loading and overseas shipping.
A full range of on-premises services are available to make each move even easier including:
· Full packing loading and trucking
· On-premises wood crating services
· Disassembly of office or home furniture
· Construction of custom packaging
· Storage units
· International Shipping
Boxes and packing materials are essential to every move. For true one-stop convenience All Around Moving makes it easy to purchase low-cost shipping and packing supplies right on their website at: www.allaroundmoving.com/ All purchases are hand-delivered to homes or business locations. Call 646.723.4084 for more information.
All Around Moving Company Inc. has an "A+" rating as a member of the Better Business Bureau. It is also a member of The Chamber of Commerce of New York and a "Designated Moving Services Provider" for The City of New York Mayor's Office of Film, Theatre and Broadcasting.
Enter For:
New York Local Movers Quote
http://www.allaroundmoving.com/local-move.php
Long Distance Moving Quote:
http://www.allaroundmoving.com/long-distance-move.php
International Moving & Shipping Quote:
http://www.allaroundmoving.com/international-move.php
419 Lafayette Street
New York, NY 10003
TEL: 646-723-4084
TEL: 212-781-4118
info@allaroundmoving.com