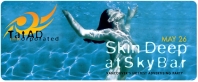 Bring your Ads to Life at TatAD.com's media launch. called "SKIN DEEP" at SKYBAR Thursday May 26th, 2005 in Vancouver. Tattooing starts at 8 p.m. Filmed by numerous television stations and media reporters. 10 Companies will be showcased. Get YOUR Company noticed on TV.
To book your press pass, contact: Mark Chadwick, President, 604-628-7701.
To be one of the showcased Companies, register online at www.tatAD.com, or call today.
Amazing client testimonials confirming that Human Billboards Work. See if for yourself at SKYBAR. You've got to See It to Believe it!