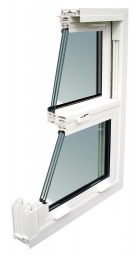 JTPW, founded in 2010 for the main purpose of clearing up the many myths, untruths and down right misinformation that has permiated into the minds of consumers about how affordable triple glazed replacement windows are. JTPW is proud to be one of the few industry leaders providing premier education and training of true high performance replacement windows, today and for the future, meeting and exceeding consumers retrofit window remodeling needs with solutions that will out perform for a lifetime. The company has a strong emphasis on both energy savings and window security within the building envelope. Providing proven energy solutions that offer the latest in replacement window technology, practical remodeling solutions, ethical reasoning and energy efficient techniques for co-ops, condos, townhouses and stand alone homes.
JTPW is in compliance with last April's (2010) EPA Lead Law mandate. JTPW is a Certified Lead-Safe Firm, RRP Certified and OSHA Lead Certified. Homeowners may not yet know about this new law. In a nutshell, if a consumer's home was built in 1978 or prior, it must be tested for lead paint. If lead paint is found to be in the area where work is to be performed, safe methods of working with and around lead paint must be followed. Any one found not obeying this law is subject to a $37,500 fine "per incident".
Homeowners should heed this warning:
Do not hire any replacement window firm, remodeler or home improvement company not certified as a lead safe company. This includes installers as well.
Also, if consumers search the Internet to learn more about the new Lead Law and find an "Opt-Out" form for this law, the opt-out clause has been repealed in October 2010 and is no longer valid.
Besides our 25 years experience with triple glazed replacement windows, our staff includes two 35 year UA Members having expertise in all forms of heating and air conditioning systems. As well as is a licensed New Jersey Home Inspector with 27 years experience.
"We know energy consumption and how to save it."
New Jersey Office of the Attorney General
Division of Consumer Affairs
New Jersey HIC Lic. #13VH06190700
Fully Insured (2M -1M)
NYC license "pending" (known as the 5 Boro license)