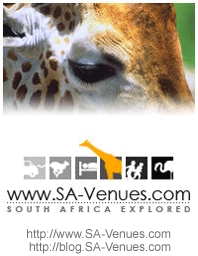 SA-Venues provides an easy online guide to assist you with the planning of your trip to South Africa. Comprehensive directories of hotels and accommodation, South Africa car hire, safaris, tours and packages and more are all accessible from one site! Information about popular destinations and "must-see" attractions, World Heritage Sites, game and nature reserves, 18-hole golf courses and a comprehensive set of South Africa maps, is provided for each province in South Africa.
South Africa Accommodation Guide / SA-Venues brings you a fine selection of South Africa accommodation establishments to choose from, for your holiday and business travel accommodation. Whether you are planning a luxury vacation to South Africa or backpacking from region to region, South Africa offers a range of accommodation options to suit every budget and travelling style. Luxury 5 star hotels and South African game lodges or, to suit the more budget conscious traveller, small hotels, lodges, inns, South Africa guest houses, South Africa bed & breakfast, luxury and budget self catering accommodation, guest farms, golf lodges, caravan parks and camping sites, can be found on SA-Venues.com.
South Africa Travel Arrangements / From Cape Town to Hermanus or the Kruger National Park to Sandton ... the options are endless. South African Airways, our domestic airline, offers regular scheduled flights between the major centers, as do many international airlines. Day tours and fully organised extended tours are available from Tour Operators, all of whom are registered with either SATSA or FGASA. Or, go it alone and rent a car or camper, and use the info on this website to plan your own itinerary.
Deal direct and save on your bookings / SA-Venues.com does not take commissions on bookings. Full contact details, photographs, maps and descriptions of facilities or services offered, are provided for all South African accommodation and service providers, and all enquiries go directly to the establishments and operators of your choice.