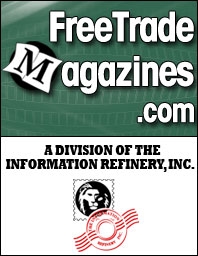 FreeTradeMagazines.com is the quick and easy way to receive free magazines for businesses that want to keep in the know.

Using our service to subscribe to free business magazines and trade journals is the best way to obtain all of the latest industry news, trends, tips, techniques new products, services and information you need to keep your business on the cutting edge.

Choose from well over 250 free magazines in 33 different categories such as Advertising & Marketing, Architecture, Building, Computers, Engineering, Furniture, Human Resources, Insurance, Petroleum & Oil, Restaurant & Food Services, Information Technology just to name a few. Using one simple form, you can subscribe to a variety of industry magazines. There is something for everyone.

Full year subscriptions are available to qualified business people who reside in the United States.

For business owners with websites, FreeTradeMagazines.com also offers a valuable free content revenue generating affiliate program.

FreeTradeMagazines.com is a division of The Information Refinery, Inc.
Status

Private Company

Founded

1986

# Employees

25

Industries