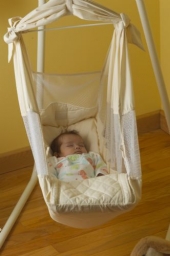 The Amby Baby Motion Hammock is helping babies across America with infant reflux, infant colic and natural sleeping. Parents an babies around the world now enjoy a peaceful night's rest. While many babies sleep safely and soundly cuddled up with mom and dad in bed or sleeping in a crib, some babies have special nighttime needs that require a more creative approach.

The Amby meets these special needs with the Amby Motion Hammock, specially designed to simulate the gentile rocking the baby experienced in the womb. In addition, the hammock is easily portible and washable, making it as parent friendly as it is baby friendly.

Status

Private Company
Company History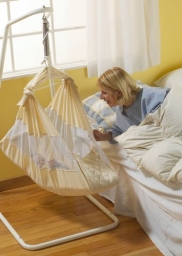 The daughter of the Australian inventor, Ambrose Hooi, was born in November 1988. The proverbial 'perfect' baby, feeding and sleeping well, she was a joy. At about 4 weeks, however, things began to change with the onset of colic, an often misunderstood illness. She soon became unsettled and restless. As with most colicky babies, sleeping and feeding became a 'chore' rather than a 'joy'.

Hooi started asking questions: Could the logical answer to the problem then, be as simple as a bed? Perhaps some kind of a 'nest' that replicates the comfort and security of the maternal womb may not be too far fetched an idea for a solution! After all, why do babies curl up in a corner of a cot to sleep?

With more research into the subject, it became increasingly evident to Hooi that there are many cultures that use an alternative bed for their babies. In many countries, a little hammock of one kind or another is used exclusively for their newborns. In these societies, the hammock as a baby bed can be found everywhere, suspended from beams in corridors and doorways, from the branches of shady old trees and on the front or back of mothers working in the fields. "Every time you look in on these 'hammock' babies," Hooi says, "they are asleep, blissfully!"

According to Hooi, the human baby, amongst the most helpless at birth, must be given an environment that has some resemblance to the maternal womb. To cope with the outside world in their first few months of 'external' existence, Hooi reasons that as he spends most of his time in bed, he should have a bed that simulates the conditions of the maternal womb - a bed that can provide spatial restrictions or enclosure, tactile touch and rhythmic movements.