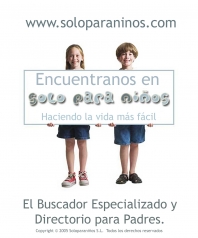 Formed in April 2005, SPN Solo para niños SL is a unique specialised search engine and directory which has been designed for parents to use when searching the internet. The search engine enables the selected businesses in the directory to advertise to parents who are actively searching for the products or services that they have, either on their own exclusive page or by linking users directly to the company's own website.

As many of the smaller companies still do not utilise the internet to attract new customers, we provide these companies with their own webpage in the directory , and direct parents and users to the relevent catagories with one simple click of the mouse.

Market research has shown us that the majority of parents and users (when using the various internet telephone directories or search engines) do not always know the names of the companies who may have what they require. For this reason, every word that a company uses in their description, automatically becomes a "key word" allowing parents and users to find what they are looking for. We are helping parents by "Making life easier".

Instead of having to search through hundreds of web pages to find what they are looking for, parents will now be able to find almost anything and everything that has to do with children in Spain and in the near future in all of the other major cities in Europe with as little as two clicks of the mouse.

With our headquarters in Barcelona we will be looking to have all of the other major Spanish cities online as soon as possible before looking to incorporate the UK, Italy, France, Germany and Sweden. The second stage of our growth, before launching our own product line of puericultura will be the launch of our online "Shopping Catalogue" mid 2007 which will allow SPN clients the opportunity to sell their products through us at no additional cost.

July 2007. SPN Solo para niños is currently rated the most popular kids directory in Spain by Alexa.
Status

Private Company

Founded

2005