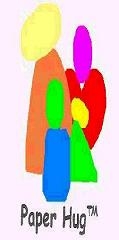 Paper Hug pouches provide everything someone needs to send love notes to their favorite people. The Paper Hug note cards are uniquely shaped bright colored notecards in a silk pouch with over 250 inspirational saying, jokes and quotes and a pen. A magnet is also included.

Paper Hugs were designed to strengthen the fabric of families and close relationships.
Status

Private Company

Founded

2003

# Employees

2
Company History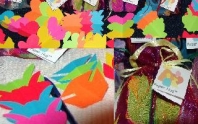 Tammy Bridges, 30-something homemaker and stay-at-hom mome of 2 little ones started the idea of Paper Hug note cards 6 years by putting similar notes in her husbands lunches hoping to inspire him at work and add more spice to their marriage. Two years ago Tammy took the idea a step further and made it into a complete kit to market which includes 1 silk pouch with magnet, 30 adorable note cards, 250+ inspirational sayings, quotes and jokes and a pen. Tammy's husband Mike came up with the name Paper Hug and said "it describes the product perfectly".