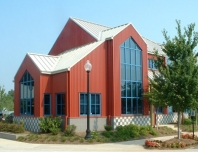 SELMARQ is an association of marketing professionals focused on delivering value to company brands. Using the proprietary BARQ Process,™ we assess and resolve your brand in a manner that can give your company greater awareness and equity in the marketplace. We develop clear direction for building more business, enhancing your image and increasing customer loyalty.

Over the past two decades, we have made our mark strengthening brands for an alphabet of companies: Alcan, BCS, Chiron, Danaher, Eslon, Greenfield, Hoechst-Celenese, Ingersoll-Rand, Jacobs, MHIA, Okuma and Rubbermaid plus Sekisui, Sonoco, Square D and Sundyne, as well as Teledyne, Tesa, Transamerica, TRW – and many more. We have learned quite a bit about inducing buyers to recognize, trust, and remain loyal to you. Beyond ads, websites and news releases, SELMARQ serves as a third party "system integrator" for your brand, helping to maintain its integrity throughout your company and across your markets.

A brand is a company's strongest constant. It's the one thing that either lifts a firm beyond commodity status – or compels it to sell on price. Brand is much more than logos, color schemes and trademarks. It's what customers and competitors think of the company. More than that, brand is what makes people buy without thinking."

Maybe you are used to the support of a full marketing department, but now your resources are scattered or limited. Do you need to position a new product or get more results from e-commerce? Are you doggedly focused on manufacturing, instead of mind share?

Whether you are at square one or on the cusp of a second wind, Brands' Best Friend offers you some fetching solutions.

Find out how SELMARQ can help you make your mark sell. Visit selmarq.com to see who we are and who we serve. Then give us a call and ask to speak to your brand's new best friend.

EXPERIENCE
Top firms – large or small – all battle continuously for brand recognition and market share. Our success stories include a variety of respected firms that have confounded competitors with innovative, effective strategies. Our experience includes work for:
• A metering equipment innovator, building a branding strategy to regain top-of-mind position and stronger market share, including an 8.5 percent return on direct mail during the post-9-11 anthrax scare.
• A global process equipment manufacturer, establishing a program to tie an array of acquired brands to a single source without diminishing individual brand equity. This included a direct mail concept that turned into an impromptu, show-stopping concert at a trade event.
• A leading manufacturer of engine starters, providing an efficient method of cataloging product specifications so consumption of printed material could be reduced while simultaneously enhancing the product image.
• An international trade association, developing communications campaigns that have helped maintain or increase trade show participation by both exhibitors and attendees, even during a slow economy.
• A European rotating equipment marketer, designing a program to recapture the brand identity hijacked by their former distributor in the US market.
• A Pacific Rim metalworking manufacturer, creating a campaign to bolster workplace and marketplace confidence in the company's stability immediately following relocation of its manufacturing facility.
Status

Private Company

Founded

1983

# Employees

4