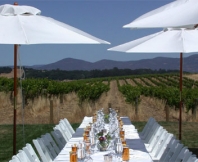 Wine Country PlanIt is unveiling the idea of specializing solely in corporate client group wine excursions. We have moved forward building successful employee motivation programs tailored to fit each company.
Wine Country PlanIt coordinates vineyard tours, cave tours, the experience of blending varietals to make your own bottle of wine, aromatic tasting, viewing art, spa treatments, gourmet picnics in the olive groves and of course wine maker luncheons pairing food and wine to delight the palette. The possibilities for wine excursion activities are limitless.
Wine Country PlanIt recently launched a program that includes beginning the day with facilitating a process with participants connecting with their peers for informal discussions on topics of special interest to them, and of importance to their organization.
Being open to opportunities, Terri Acuna's vision of Wine Country PlanIt grows. Her aspirations are to expand locations to New York, Italy, France, Chile and Australia. Terri is well on her way to, indeed, creating a Wine Country PlanIt.
Contact:
Terri Acuna
Wine Country PlanIt
866.341.3549
events@winecountryplanit.com