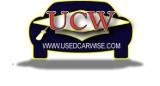 Usedcarwise.com offers to the public an affordable instructional course on cd rom on not just what to look for, but HOW to look for damages,poor maintenace,body repairs, branded titles etc when shopping for a used car or pre-owned vehicle.
With a 100% guarantee of satisfaction, consumers can feel confident that the course content will minimize their risk of wasting literally thousands of dollars on a used vehicle that is less than a quality vehcile.
With over 26 years of automtove knowledge founder and CEO Jerry Christopher states that the course information is designed so that even the novice car shopper can learn from the services provided.
Just a few of the topics included but not limited to:
Using a simple tool to measure paint thickness to check for paint repairs.
Inspecting for body repairs.
Inspecting for flood damage.
Inspecting for engine sludge.
Performing a vehicle history check and WHY it's not all you need.
Performing a critical quality road test.
Interior Inspection.
All about Certified Used Cars
How to obtain and interpret a warranty history report that can uncover hidden problems.
For more information on the course visit their web site at www.usedcarwise.com
Or For phone information.
Call 1 866 374 WISE (9473)