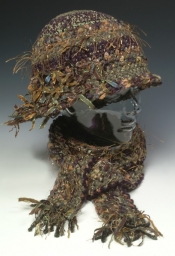 Fibers Gallery Ltd. is a fine craft gallery devoted to the fiber arts. Six women fiber artists, drawn together by a common bond and passion opened the gallery in quaint Mt. Vernon, Ohio on October 1, 2005.

The partners have signed up over 20 other fiber artists to sell their work on commision in the gallery and/or be a part of the daily operation.

In addition to a retail venue to promote the fiber arts, the gallery's goal is to educate the public and allow them to experience the beauty and versatility of fiber.

Handcrafted items for sale include; knitted and crocheted wearables, woven home furnishings, felted handbags, hand-painted silk scarves, chain mail jewelry, paper journals and books, children's hats, traditional rag rugs, quilts and collage wall hangings.
Status

Private Company

Founded

2005

# Employees

6

Industries