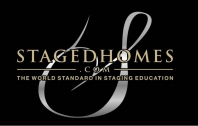 Stagedhomes.com
is the World Standard in Staging Education. Since 1999, we have graduated over 25,000 students through our two and three day Accredited Staging Professional® (ASP®) Courses developed by Barb Schwarz, the Creator of Home Staging® to help educate real estate agents and those interested in owning a successful Home Staging business. From its inception, Stagedhomes.com has set the standard for professionalism and integrity in the industry and is a resource for education before, during and after our students attend our top-notch courses. Through the exclusive Staging University, graduates have ongoing access to classes to further their education, knowledge and expertise.
Our graduates receive membership in the International Association of Home Staging Professionals® (
IAHSP
®), the first trade association established to help guide the Home Staging industry. Since 1999 IAHSP® has provided performance standards and code of ethics to members worldwide. Through IAHSP members can join regional chapters for ongoing education and support.