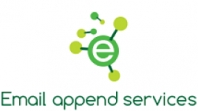 Emailappend.Services provide precise services for specific objections through innovative, data-driven marketing solutions. We are the pioneers in providing data-driven outcomes, and we empower businesses to engage and join with millions of clients & companies on a daily basis. It's about delivering the right contacts at the right customers through the right channel, providing real-time consumer (B2C) and business (B2B) data, and providing clients with a complete, email data appending services which can match Fax, Phone, Address, Employee, and revenue details that streamline the marketing and operations to improve the bottom line Official data drives incredible results.
Different Types of Appending Services We Provide:
Contact Name Appending
Company Name Appending
Email Appending
Phone Appending
Fax Matching
Mailing Address Appending
Reverse Email append
Reverse phone append
Company Revenue Size appending
Company Employee Size Appending
Sic code Appending etc..
Visit us: http://www.emailappend.services/ to know more about the servers we provide.