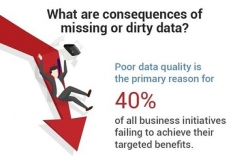 Fontana, CA, July 23, 2016 --(
PR.com
)-- Email Append Services, a company that has been offering exceptional data management solutions for a long time now, has rolled out a service that will go a long way in helping businesses in keeping their current clients and converting their prospects by making sure that their data is properly managed and is updated.
This launch comes at a time when many businesses are waking up to the fact that poor data management can cost them a big deal. However, companies can avoid losing their clients by employing such innovations.
Email Append Services has literally set the trend on proper data maintenance. The new change has become a must have tool for companies in improving client experiences, identifying cross-sell, as well as up-sell opportunities and retention of customers. But, that being said and done, the data in question must be accurate hence the need and importance of hiring professionals in that area.
By utilizing the
Email data appending services
businesses can avoid three errors that characterize poor data – missing or incomplete data, inaccurate data and out-dated info.
Employing the right and most efficient marketing and data solutions has since become a must for almost every company in business today. A report by DMA titled the 2016 Data Quality Benchmark; nearly 97% of entities in business are looking for means and ways of turning their data into insights.
According to the report, there are many reasons as to why companies are looking forward to maintaining high-quality data for their business. They include but not limited to cost savings, protecting the company's reputation in the market, increasing efficiency, enabling the company or business to capitalize on the opportunities in the market, compliance purposes, reducing risks associated with doing business, enable making informed decisions and increase customer satisfaction to mention but a few.
Customer satisfaction and experience, in particular, is said to have overtaken price as far as customer retention is concerned. That is for the reason that clients are nowadays more than willing to pay more for a better service which translates to a more positive experience.
According to figures released by Oracle, 81% of customers are ready or willing to part with more cash for a better and positive customer experience while 89% of clients changed brands following a poor customer experience. Oracle further says that business stands to lose up to 20% of their annual revenue owing to poor customer experiences. However, in as much as these statistics clearly show how serious businesses should be regarding ensuring they keep positive customer experiences, most of them are not able to. To some extent, this can be attributed to poor marketing and data maintenance.
Email Append Services innovative and data-driven marketing solutions have helped many businesses in streamlining their sales, marketing and operations by matching and updating their data. This company understands that many businesses are motivated by the kind of opportunities that the right and well-organized data represent especially given the fact that consumers and prospects nowadays have a wide range of choices and, as such, any company must give them a reason why they should continue doing business with them.
Some of the services that Email Append Services offers include business data append, consumer data appending, email appending, phone appending, reverse appending and mailing address append.
Email Append Services has been in this business for quite a long time and has offered some of the best solutions and services.