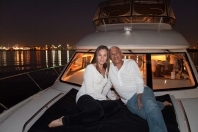 Amos and Shari Zolna moved from New York City to San Diego in 1995. They have a beautiful daughter, Annabelle, who has become a fantastic First Mate and crews on many of their charters until she heads off to college at UC Santa Cruz. They have a rescued German Shepherd, coincidentally named "Bella" whom they still foster after having successfully found "fur-ever" homes for her 10 gorgeous pups.
Amos and Shari instantly fell in love with everything this magnificent city has to offer. From the sea, to the the mountains, to the desert wildflower explosions, they found San Diego to be so much more than a city. Then to discover the Gas Lamp District, Little Italy, and a multitude of cultural venues and events, the Zolna's knew this was the place for them.
It was easy to acclimate to San Diego's great year round climate, and they were especially drawn to it's unique coastal way of life. After many years of owning vacation rental properties on the island of Maui, Amos came up with the idea to combine their knowledge of the vacation rental business with their passion for boating. And so they did. In March of 2007, they opened Zolna Yachts, a unique San Diego business offering lodging aboard a yacht. Soon after they added to their resumes "United States Coast Guard Captains."
This yacht lodging business evolved into a full service yacht company that offers customers a fantastic fleet of privately owned yachts for overnight lodging and charter. Zolna Yachts is now the go-to company in San Diego for private charters, being recommended by the San Diego Concierge Association and a network of businesses all over Southern California. Many of Zolna's five star customer reviews can be seen on their website, Yelp, Trip Advisor, Google Business, Facebook, VRBO and many other travel and social media websites.
In addition to Zolna's growing charter business, and what separates them from anyone else in the Yachting Industry, is their Yacht Management Services which have been instrumental in helping yacht owners afford and maintain yacht ownership. When a yacht owner adds their vessel to their fleet, they can be assured that their yacht will be immaculately maintained and they can even make a financial profit at the end of each month. "We make it very easy for a 'regular' person to own a yacht."