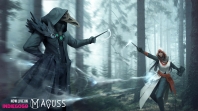 Maguss LLC is a 2 years old startup developing a free-to-play AR wizarding mobile MMORPG. The game allows player to cast spells on a smartphone or using a Maguss Wand. Player can walk to raid dungeons and collect ingredients, study to learn spells, brew potions and fight to earn respect and glory.
The project has been recently presented on Indiegogo campaign ending on 9th November while recently passing 110% of the goal.
The game already has already built up large community of dedicated players posting content on Maguss Forum every day.
See more information on the official website: http://maguss.org