Maguss: the First Mobile Multiplayer Spell Casting Game, Featuring an Optional Magic Wand Device, is Live on Indiegogo and Already Reached the Funding Goal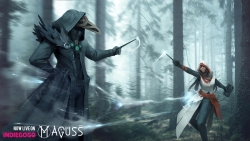 Copenhagen, Denmark, October 26, 2016 --(
PR.com
)-- Maguss is a free-to-play AR fantasy mobile MMORPG in which the world is a stage and the player is the lead actor. An already funded
Indiegogo project
is firmly on its way to unlock the first stretch goal of advanced group play.
Gamers worldwide will be able to join their friends and together raid dungeons, study to learn spells and brew potions from collected resources and fight to earn respect and glory. The game features a strategic, semi-turn-based combat system, location-oriented exploring and an interesting potion brewing mechanics. The most crucial part of the game is the art of spell casting. Draw a gesture with your hand on your favorite mobile device or take the wand and form a correct pattern.
The game offers many activities to choose from.
Players can fight off dangerous monsters and duel each other in person or using a long-distance mode to battle from all around the world. Fighting system is a combination of tactic, timing and anticipation. Different categories of spells offer various ways to beat the opponent.
Prepare in advance for any situation. Explore the world and collect all the necessary ingredients. Follow the recipe and mix the perfect potion. Chase away the fear or boost up your stats and embrace a challenge.
Step outside to discover vast underworld and long-forgotten places. Follow the prompts on the map and walk into a dungeon. Fight through all the monsters and finish the boss.
Make yourself an ally. Use specific spells and tame a creature to stand by your side.
Whether you prefer to fight and become a fearsome opponent or explore the world to discover all the places, you will certainly find a way to enjoy Maguss. Exciting gameplay won't let you stop for a moment. A varied array of spells, items, monsters and interesting locations will provide you and your friends with a lot of fun.
While the basic gameplay is free and requires just a mobile device, the one-month long crowdfunding campaign was launched to help fund the rest of the project and the production of Maguss Wands. Perks backers can get vary. Maguss Wand package, which includes a Wand, beta access on 1st December 2016 and many more in-game benefits, goes for $49. The early bird for $39 sold out in less than 24 hours. The other rewards include, for example, a beta access together with in-game items for $19 or a Maguss Wand double pack with an option to design and name your own spell for $199.
The open beta release and shipping of wands is scheduled for February 2017, but the game will be already available for backers in December 2016.
There is already more than 890 campaign backers and a community forum full of dedicated Maguss fans suggesting ideas for game design, giving feedback and actively participating in the development.
Indiegogo campaign:
https://igg.me/at/maguss
Official website: http://maguss.org
Community forum: http://forum.maguss.org
Contact
Maguss
Ondrej Tokar
+4526591675
http://maguss.org

Contact