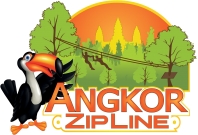 Angkor Zipline, https://angkorzipline.com, is the only permanent, educational eco-adventure tour operating inside Angkor Archeological Park, Siem Reap, Cambodia. This one-of-a-kind jungle eco-adventure offers two world-class zipline eco-adventure canopy tours and several multi-adventure tours, all in Siem Reap and the surrounding area.

Any age from 5-95 can participate in the tours, and guests have participated from over 75 countries throughout the world. Safety is the highest priority at Angkor Zipline. Each group of 9 guests maximum is accompanied by at least two highly trained Sky Rangers, who also have training in both First Aid and CPR.

Course highlights include the longest single zipline in Cambodia and multiple other ziplines, suspended bridges, and a dramatic treetop descent. Sky Rangers combine their own experience growing up and living in Cambodia, with direction from expert naturalists to explain herbs, wildlife, flowers and fauna during a 500-meter nature walk after each zipline eco-adventure. The Angkor forest is home to some 521 species of birds, 127 mammals, and 116 reptiles so there is much to see and learn.

The company helped to sponsor the re-introduction of several species of wildlife, featuring the extinct wild gibbon into the rainforest, where now a family of 4 gibbons resides. The company also sponsors children in need, free of charge, and supports the work of several NGO's and private non-profits in the Siem Reap community.
Status

Private Company