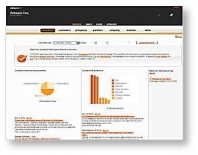 Attaain Inc. delivers "active intelligence for strategic advantage" with AttaainCI, the comprehensive web-based solution for researching, analyzing and real-time tracking of competitive intelligence and market intelligence about companies, people and markets.
The AttaainCI Software-as-a-Service (SaaS) system is used for business development in a wide range of industries to identify and track new sales prospects, existing customer growth opportunities, competitor activities, strategic partner prospects, industry developments and more, across single or multiple lines of business.
The AttaainCI system provides detailed company profiles and decision maker information covering millions of companies worldwide and continuously monitors, filters and integrates the latest information updates from a wide range of sources. The system provides real-time competitive business intelligence to drive strategic decision making in areas such as: business development, sales and sales management, marketing, product development and management, merger/acquisition/investment activities, corporate strategic planning and top management decision making across all company disciplines.
The AttaainCI software also offers powerful tools for web marketing diagnostics and strategic market planning, and includes workgroup collaboration features for confidentially sharing documents and for flagging and communicating important business information among team members.
For complete information, visit: www.attaain.com