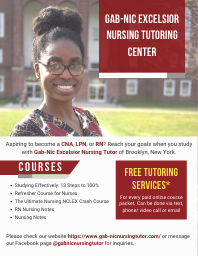 This company has been offering tutoring services to future nurses around the globe since 2013. At Gab-Nic Excelsior Nursing Tutoring Center we help people in different levels of nursing, namely CNAs, LPNs, and RNs increase their knowledge in the sciences in order to pass their various exams, and become licensed care providers. We offer help in all nursing subjects from pre-requisites to NCLEX review with 1-1 and group session and most recently are beginning to do online courses. Recalling the rigor of the nursing curriculum and how a systematic study plan can mean so much, I have designed a 13 step studying technique that promises better comprehension and higher grades up to 100%. With this plan students can actually predict according to how much work they put in, what their exam grades will be. Using their gift of teaching our tutors help produce more heroes as they allow nurses to get into the position where they can save lives.
Status

Private Company
Company History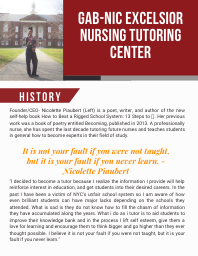 Founder/CEO- Nicolette Piaubert (Left) is a poet, writer, and author of the new self-help book How to Beat a Rigged School System: 13 Steps to 100%. Her previous work was a book of poetry entitled Becoming, published in 2013. A professionally nurse, she has spent the last decade tutoring future nurses and teaches students in general how to become experts in their field of study.

"I decided to become a tutor because I realize the information I provide will help reinforce interest in education, and get students into their desired careers. In the past I have been a victim of NYC's unfair school system so I am aware of how even brilliant students can have major lacks depending on the schools they attended. What is sad is they do not know how to fill the chasm of information they have accumulated along the years. What i do as i tutor is to aid students to improve their knowledge bank and in the process I lift self esteem, give them a love for learning and encourage them to think bigger and go higher than they ever thought possible. I believe it is not your fault if you were not taught, but it is your fault if you never learn."