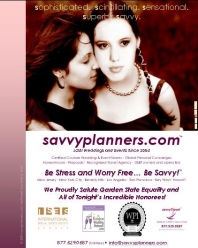 savvyplanners.com is America's first GLBTI-Specific and Events firm Launched on the island of Key West, Florida in 2004. As a bespoke, luxury wedding firm, they continue to enjoy a 100% level of guest satisfaction ratings among all couples served.
Five years later, operations include the New York metropolitan area, as well as, maintaining teams on Key West, San Francisco, Hawaii and serving the Florida Keys. The company has served clients from the Midwestern, southern and northeastern United States and the United Kingdom.
By 2007 they had established event teams in New Jersey, New York City, Pennsylvania, Los Angeles, Beverly Hills, San Francisco and Key West.
In 2009, they added all of Hawaii.
savvyplanners.com has been featured in the Washington Times and the UPI (United Press International), Angie's List, Bucks County Woman magazine, Out IN Jersey magazine, New York Resident Magazine, as well as, blogs and wedding websites internationally including England, India, Australia and Ireland.
savvyplanners.com trains its team to a high level of service and desire to meet client needs and requests. For client protection, all savvyplanners.com staff are bound by a non-disclosure agreement, as a condition of employment, to assure the security of ALL client information and privacy.
As of 2008, savvyplanners.com launched its own, in-house, full-service travel bureau/agency. It is called savvyTravel™ and is designed to be the ultimate in client convenience, in that all elements of a wedding or event can be addressed by a single point of contact and accountability.
Also in 2008, savvyplanners.com, Northeast, Key West and West are entering discussions to launch an additional satellite office in central Europe by late spring.
Now six years into the growth and development process, it continues offering services with an internationally astute and culturally sensitive competence in event planning, travel booking and guest services.
As of 2010, savvyplanners.com our Flagship Portfolio includes: Teams Serving New York · Los Angeles · Beverly Hills · San Francisco · Hawaii · Miami · Key West · Dallas · Atlanta · New Orleans & The ArkLaTex.
Our teams are available for service worldwide and our teammates have created events in Austria, Bahrain, India, Kuwait, Canada and the United Kingdom to name a few.