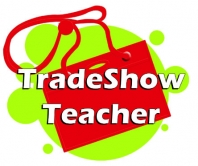 TradeShow Teacher is a Trade Show Training & Consulting firm, which specializes in teaching businesses how to achieve Trade Show success. Customers learn how to achieve higher Trade Show ROI, qualified leads, amplified response rates & most importantly, increased revenue from Trade Show activities. TradeShow Teacher provides Trade Show training materials, customized on-site training & seminars, as well as trade show consulting & services to businesses nationwide.

The customized training is essential, even for veteran exhibitors, to further develop their trade show exhibiting, target their trade show exhibits to attract key prospects & train booth staff how to effectively engage, qualify & close with them; all of which directly contribute to increasing Trade Show ROI. The company is focused on providing the necessary training tools and resources, which facilitate customers to autonomously optimize their return on investment without having to rely on long term Trade Show Consulting.
The Trade Show Training is conducted by seasoned Trade Show Consultant, Linda Rodriguez, President of TradeShow Teacher. By combining her Public Relations, Trade Show Management & Trade Show Training experience, along with her many years of Graphic Design & Marketing experience, she provides Trade Show Training that delivers incredibly powerful results & increased revenue to her customers.
Status

Private Company