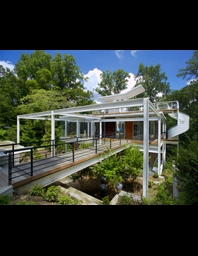 As two separate, but constantly interacting companies, tonic design and tonic construction work toward and execute sensitive modern design solutions that make a difference in our clients' lives and contribute to the existing rich architectural fabric of our community.

Our knowledge is a combination of design and construction. We have the flexibility to take on the role of architect or general contractor. In the appropriate situation, both tonic design and tonic construction collaborate to further our passion to create, share and deliver architectural experiences that are customized to our clients' needs.

Through our building experience with tonic construction, we have gained access to craftspeople whose talents and knowledge are aligned with our designs. These resources allow tonic design to quickly assess the feasibility of the ever-floating variables cost, size, and quality of each project

Tonic construction works with architects and owners who are committed to outstanding design and architecture. As Builders, with an architectural education, we sincerely understand and care for the architect's intentions, and take great pride in the final product. By applying this architectural knowledge to construction, we are able to realize savings for both the architect and owner.
Status

Private Company

Founded

2002