BagButton, Making Space Bags Vision Practical
BagButton took Space Bags vision of consumer vacuum packaging to reduce, protect and organize, and made it practical, affordable and portable.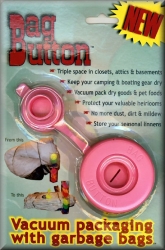 Mossyrock, WA, May 04, 2006 --(
PR.com
)-- BagButton was invented in 1996 and made its market debut in February 2004. BagButton has taken Space Bags vision of consumer vacuum packaging to reduce, protect and organize, and made it practical, affordable and portable for the entire consumers market of home storage and outdoor enthusiast .
With the BagButton a vacuum and plastic bags or garbage bags you will reduce, protect and organize almost free. Why not have a Space Saving Bag around when you need one?
FAMILY INVENTORS SEE SUCCESS IN THE BAG
BagButton will become as familiar to homeowners, travelers, and hikers as Velcro, bungee cords, and duck tape did in the last quarter-of-a-century.
The idea developed out of desperation, but this innovative family hopes their money-saving gadget will also button up their independence. In 1996, Larry Storey and Heather Storey, along with their two young children, began living in a leaky, old mobile home on eight acres near the inlet to Lake Ketchum in Stanwood, waiting for building permits to be approved from Snohomish County.
We fought the county for about five years, explained Storey. Storey, 46, was left partially paralyzed on his left leg and completely on his left arm after a motorcycle accident 18 years ago, yet remained in the building trade. Meanwhile, the couple planted about 400 trees on their property to comply with environmental protection laws so they could build their home, while trying to save belongings in their rapidly-decaying home. "We just started losing everything," said Storey. They attempted to preserve items in garbage bags, but moisture soon found its way inside, causing mildew to form.
Ads on TV for the Space Bag, a waterproof, airtight vacuum bag, caught their attention, but they were too expensive for the family---with the amount of bags they needed. So, the couple began brainstorming ideas on how to devise a cheaper alternative. They started with a lid from a five-gallon water bottle regularly delivered to their home. They used the lid as an o-ring, placing it on the opening to a garbage bag and fanning it out to make a bouquet. With the hose of a vacuum cleaner turned on, they placed it over the o-ring and saw the possibilities begin to take shape. It began sucking air out of the bag to make it smaller and airtight. "It worked," said Storey. Several modifications later, accomplished even during the building of their two-story stucco home, they applied for a patent.
The amount of engineering is absolutely phenomenal, said Storey. Financed by three -mortgages on their home for the product's development, manufacture and packaging, they began test marketing the BagButton on the World Wide Web, Fall 2003.
Big companies began vying for the product rights, but the financial arrangement would have left the family holding an empty bag, paying more to the State of Washington than what they would have made, said Storey. "To see what the public would actually pay, we got on auction sites and got as much as $20," he said. "We sold about 1,000 last Fall." They dropped the price to $14.95 and got their own Web site. With the help of banner ads, they began selling 200 a day. "People just love it," said Storey. "It's just amazing how it's taken off."
The BagButton works with a vacuum and plastic bags, reducing a pillow to three-quarters-of-an-inch, said Storey. "It also works well for sleeping bags, clothes, storage, and for efficient suitcase packing," said Heather Storey. "There are so many places we haven't even thought of where this product could be used," she added. "Best of all, cheap garbage bags can be used, compared to the price of a Space Bag at $20." said Heather Storey.
Still, keeping up with demand proved difficult. The couple even enlisted the help of their children Tia, 7, and Tristen, 3, and Nick, 22, from Storey's first marriage, to help them package their product, but remained overwhelmed. So, at the beginning of 2004, they pulled back on their ads to re-think their goals. Heather Storey made arrangements through her father in Portland for a company to help manufacture their product and for another Oregon company to package it. Within the month of February 2004, they receive their First order of approximately 10,000 pre-packaged products. "We have about $485,000 into it so far," said Storey. "If it doesn't work---we're both getting jobs!" added Mrs. Storey.
The BagButton can be found at QFC/Kroeger, Bartell Drugs, Shurgard Storage, Urban Storage, Fort Lewis WA., Participating True Value Hardware's, and 7-11s. BagButton has been accepted by Winn Dixie and are waiting for air time on Home Shopping Network.
BagButton LLC is actively seeking distributors World Wide. For more information see www.bagbutton.com.
BagButton's newest addition to the family:
BagButton, the worldwide leader in economical space saving solutions, today announced an agreement with BagButton Canada, located in the province of New Brunswick. BagButton Canada will import BagButton's products into Canada and provide inventory, supply chain and marketing services to distributors, resellers and end users throughout the territory. "The economical space saving market in Canada is one of the largest in the world and with the support of our new partner BagButton Canada, we will rapidly expand our business in the country." said Larry Storey, President and CEO for BagButton LLC.
The company BagButton.com was formed in 1996. Received their certificate of formation as BagButton LLC. February 9, 2004 in Washington State. From 1996-2004 they went through the patent processes and several mold changes and entered into the market on February 29th 2004.
###
Contact
BagButton LLc.
Larry Storey
360-983-3800
www.bagbutton.com

Contact