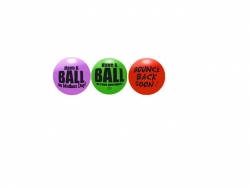 Chicago, IL, May 07, 2006 --(
PR.com
)-- The fun, energetic and inspiring sisters live across the street from each other in the same blue collar Chicago neighborhood their grandparents immigrated too from Eastern Europe. The sisters would spend countless evenings trying to think of that next great idea not realizing they already had it.
One of the sisters who comes from the direct mail industry knew she could mail just about anything if she could get a stamp on it. In 1996 this sister walked out of a neighborhood store with a 10" ball and a Sharpie marker in an attempt to send something special to a friend. The sister wrote "have a ball with your new baby" on one side of the ball, put the new mother's address on the opposite side, took it to the post-office and mailed it. Curious post-office patrons and an Oprah segment inspired the sisters to believe everyone should be able to SENDaBALL.
The sisters say one of the best parts of having a business like this is they don't sell pacemakers or the batteries that go in pacemakers, they sell smiles.
###