Wholesale Sunglasses Dealer Announces Buckle Sunglasses
CTS Wholesale Sunglasses today announced that Buckle sunglasses are ready to ship.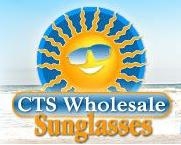 Salem, OR, May 08, 2006 --(
PR.com
)-- Kirk Bachelder of CTS Wholesale Sunglasses today announced that Buckle sunglasses are now available and in stock ready to ship. Buckle sunglass styles have become very popular due to its distinctive metal buckle look in the rims.
"People are always searching for new styles in sunglasses so that they can look different in a crowd. That is why we keep updating our range frequently", said Kirk. "The new Buckle range is flying off the shelves because of a unique buckled-in appearance. Though these are slightly costlier because of the metal components, they fetch a very good price in the retail market and generate excellent profit per sale for the dealer", he added.
CTS Wholesale has become very popular with the retailers because of its customer friendly attitude. They carry a large range of 'inspired by leading brands' sunglasses and always have fast-selling, hot styles in ready stock. Their Rhinestone sunglasses range is getting superb response from women customers. They also offer sunglass accessories, displays, clip ons and goggles at one place which saves the customer lots of time and hassles.
Kirk told us, "Our customers appreciate our fast shipping through FedEx because they can get their ordered goods in hand quicker". All the sunglasses sold by CTS are designer inspired and not fakes, with no marks on them, thereby ensuring that the customers are not taking risks with the law.
Kirk Bachelder was in the news recently because of his unconditional offer of helping any sunglass retailer with ideas and tips on setting up a flourishing sunglass retail business. Kirk has been successfully selling 'compare to' sunglasses in various markets like malls, flea markets and exhibitions. He now imports sunglasses and has a large number of retailers who buy wholesale sunglasses from his company and sell in retail. Kirk claims that selling sunglasses can earn pretty handsome margins for the retailers.
About CTS Wholesale Inc.
CTS Wholesale Inc. offers wholesale 'compare to' sunglasses and accessories through its online store at http://www.CTSwholesalesunglasses.com. The owner, Kirk Bachelder enjoys guiding young enterpreneurs and retailers on setting up kiosks and shops at malls and other high traffic areas for selling designer sunglasses.
Contact Information:
Kirk Bachelder
CTS Wholesale Inc.
2791 Pence Loop S.E.
Suite #10
Salem, OR 97302
Phone: 503.364.3486
Fax: 503.589.4121
###
Contact
CTS Wholesale Sunglasses
Kirk Bachelder
503.364.3486
www.CTSwholesalesunglasses.com
CTS Wholesale Inc.
2791 Pence Loop S.E.
Suite #10
Salem, OR 97302

Fax: 503.589.4121

Contact