New Site Highlights BC Waterfront, Water View Real Estate
New web site launches catering exclusively to buyers and sellers of waterfront and water view real estate in British Columbia, Canada. Interview with company owner Sharleen Whiteside, describing why it fills and underserved niche and the rich features of the site.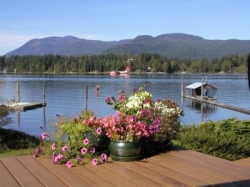 Courtenay, Canada, May 11, 2006 --(
PR.com
)-- With the launch of Waterfront West (
www.waterfrontwest.com
), Sharleen Whiteside has combined her real estate obsession with her passion for aquatic vistas. Her pioneering real estate web site exclusively promotes waterfront and water view properties in British Columbia. "We have properties from every corner of the province, including those on islands, those near the ocean, and those near rivers and lakes," says Whiteside.
Waterfront West fills an underserved niche in several markets. "These properties are attractive to U.S. investors, who view British Columbia waterfront and water view properties as undervalued in comparison to those in the States," says Whiteside. Property affordability is also a factor in luring international investors from places like the U.K., Germany, and Korea to British Columbia.
Closer to home, retirees from the Prairie Provinces are flocking to B.C., embracing the warmer coastal climate and the province's recreational opportunities. In fact, it was Whiteside's father, a native Albertan and soon-to-retire physician and University of British Columbia professor, who prompted Whiteside's new business venture. "I came up with this idea because my dad kept asking me to look at waterfront properties on behalf of his friends and colleagues who live in the bigger cities," says Whiteside. "They would jump from web site to web site trying to find waterfront properties, but had a difficult time finding these gems among the advertisements for other properties."
Whiteside's idea to centralize waterfront properties on one site also sprang from her recognition of an existing demand. "I kept seeing ads in newspapers from people wanting waterfront or water view properties. It was a perfect opportunity, since there's no other open marketplace catering exclusively to buyers and sellers of waterfront and water view properties in B.C."
Waterfront West offers numerous features for both property buyers and sellers that traditional real estate venues cannot. Waterfront West's proprietary search system is a windfall to those in the market for a waterfront or water view home. Not only can buyers search by region and type of waterfront property – ocean, lake, river, or nature reserve - but they can also select from among special features – such as "southern exposure" or "moorage possible" – and facilities like "guest cottage" or "boat house." Says Whiteside, "Buyers deserve to find a home that fits their dreams and lifestyle. Our advanced search helps them find exactly what they are looking for." Site visitors can also sign up for an RSS feed for updates on the most current properties.
On the seller's side, advertisers wanting to promote individual properties can choose from one of three packages at $29, $39, or $49 per month. Developers, Realtors, and private sellers with multiple properties can purchase ongoing subscriptions to the site. Sellers have the ability to upload their properties themselves and have their ads online immediately or they can take advantage of Waterfront West's property input service. With Whiteside's soon to be implemented guarantee, private sellers who choose a six-month advertisement will be guaranteed that, if the house doesn't sell and the seller then selects a Realtor affiliated with Waterfront West, their advertising fee will be refunded by the Realtor upon the sale of their home. "It's a win-win situation for everyone involved," say Whiteside, who also offers additional resources to sellers, including articles and a sellers' newsletter.
With Whiteside's energy, enthusiasm, and passion for real estate, both buyers and sellers are certain to find that Waterfront West is the best place to navigate the real estate waters.
###
Contact
Waterfront West Real Estate
Sharleen Whiteside
866-799-9378
www.waterfrontwest.com

Contact