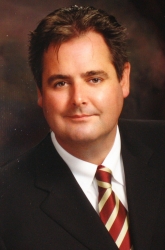 Newport Beach, CA, May 18, 2006 --(
PR.com
)-- NetworkD Group, a global leader in IT Service Management Solutions, today announced that Ashley Leonard, President and CEO of NetworkD Group, has been named Ernst & Young Entrepreneur Of The Year Semi- Finalist. Over the past 20 years, the Ernst & Young Entrepreneur Of The Year® award has developed the reputation as the most prestigious honor for entrepreneurs.
"Being nominated for the Ernst & Young Entrepreneur Award is a significant honor," commented Joe Wang, President and CEO of LANDesk Software. "I've had the opportunity to work with Ashley Leonard for more than three years, and am happy to see his business efforts recognized. His vision and leadership have transformed NetworkD into a globally recognized IT service management provider."
For two decades Ernst & Young and the 'Entrepreneur Of The Year' awards have honored entrepreneurial men and women and the companies they build and grow. The awards recognize the vital contributions of entrepreneurs — the leaders and creators who build and sustain world-class businesses that are a testament to vision, leadership, achievement, and social responsibility.
"Ashley Leonard is a well deserved semi-finalist for the Ernest and Young entrepreneur award," remarked CEO of FrontRange Solutions Michael McCloskey, "The energy and commitment with which he runs global business has resulted in success for themselves and generated opportunities for others. Over the past three years that NetworkD has been a reseller partner with FrontRange, he has consistently demonstrated creativity, passion, and dedication."
Since founding NetworkD in 1996, Ashley Leonard has grown NetworkD from its California base to an organization with operations in more than five countries and recognition as a global leader in IT Service Management Solutions. Under Leonard's visionary leadership, NetworkD has made a number of strategic acquisitions and partnerships that have enhanced its ability to serve rapidly evolving customer requirements.
"A leader is only as good as his or her team and I am privileged to work with many outstanding people," remarked Leonard. "Entrepreneurial ideas and practices are fundamental to our vision, and we are extremely proud that Ernst & Young has recognized our commitment to continued innovation. I share this achievement with our employees, who continually demonstrate their dedication to NetworkD's success."
Previous Entrepreneur Of The Year winners include individuals who have built some of business's most recognizable names: Jeff Bezos of Amazon.com, Pierre Omidyar of eBay, Inc., Sergey Brin and Larry Page of Google, Inc., Howard Schultz of Starbucks Corp., Catherine L. Hughes and Alfred Liggins of Radio One, and Jim McCann of 1-800-Flowers.com.
About Ernst & Young Entrepreneur Of The Year Awards
The Entrepreneur Of The Year® awards program was created and is produced by professional services firm Ernst & Young LLP. As the first award of its kind, the Ernst & Young Entrepreneur Of The Year award recognizes outstanding entrepreneurs who are building and leading dynamic and growing businesses. The program honors entrepreneurs through regional, national and global award programs in over 100 cities and 35 countries. Further information about Ernst & Young can be found at www.ey.com .
About NetworkD Group
Established in 1996, NetworkD is a leading provider of IT Service Management Solutions to enterprise organisations worldwide. Focusing on solutions that take the best of ITIL® and operational best practices, NetworkD offers best-of-breed solutions in the areas of Asset Management, Desktop Management, Service Desk Management, Security and Patch Management, Server Management, and OS deployment. With a reputation for innovative solutions and technologies, NetworkD has over 5,000 clients globally and has been honored with over 75 awards. Headquartered in Newport Beach, Calif., NetworkD has office located throughout the United States, United Kingdom, France, Ukraine, and Germany. Visit www.networkd.com for more information.
###