Wholesale Sunglasses Company Introduces Acrylic Displays
CTS Wholesale Sunglasses today introduced a range of acrylic displays for its retailers to showcase their range attractively.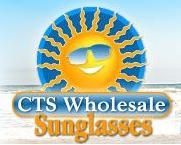 Salem, OR, May 20, 2006 --(
PR.com
)-- Kirk Bachelder of CTS Wholesale Sunglasses (http://www.CTSwholesalesunglasses.com) today introduced their new acrylic display range for the sunglass retailers. These countertop displays are available in 10 styles and costs start at $9.
"These acrylic sunglass displays (http://301url.com/acrylicdisplay) are very colorful and immediately attract the attention of the shopper. There are models that hold 6 pairs and others hold upto 12 pairs", reported Kirk. "With a height of 19 inches to top and width of 6 inches, these also take lesser space."
It is very important to display the sunglasses in an attractive fashion so that the passer-bys and window shoppers can be drawn to explore the range and may be choose a few pairs for themselves or their near and dear ones. These acrylic displays, available in multiple colors, are very useful for this purpose.
CTS Wholesale sunglasses takes a complete view of the sunglass marketing function and offers accessories and service kits that help the retailer to increase their per-order value while increasing the satisfaction level of the end-customers.
"We have added these acrylic displays to our collection so that the retailer can get more sales for their sunglasses by attracting the casual stroller in a busy mall", told Kirk.
Kirk Bachelder was in the news recently because of his unconditional offer of helping any sunglass retailer with ideas and tips on setting up a flourishing sunglass retail business. Kirk has been successfully selling 'compare to' sunglasses in various markets like malls, flea markets and exhibitions. He now imports sunglasses and has a large number of retailers who buy wholesale sunglasses from his company and sell in retail. Kirk claims that selling sunglasses can earn pretty handsome margins for the retailers.
About CTS Wholesale Inc.
CTS Wholesale Inc. offers wholesale designer inspired sunglasses and accessories through its online store at http://www.CTSwholesalesunglasses.com. The owner, Kirk Bachelder enjoys guiding young enterpreneurs and retailers on setting up kiosks and shops at malls and other high traffic areas for selling designer sunglasses.
Contact Information:
Kirk Bachelder
CTS Wholesale Inc.
2791 Pence Loop S.E.
Suite #10
Salem, OR 97302
Phone: 503.364.3486
Fax: 503.589.4121
###
Contact
CTS Wholesale Sunglasses
Kirk Bachelder
503.364.3486
www.CTSwholesalesunglasses.com
CTS Wholesale Inc.
2791 Pence Loop S.E.
Suite #10
Salem, OR 97302

Fax: 503.589.4121

Contact