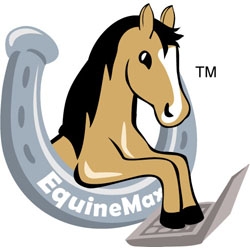 College Station, TX, May 23, 2006 --(
PR.com
)-- Owning horses is not merely a past-time, it is a lifestyle. Today, this lifestyle is enhanced with EquineMax equine software, a complete horse management software program.
EquineMax 2006 is helping horse owners stay organized, providing a record keeping solution for horse owners of all breeds and disciplines. This program was designed with the horse owner in mind, combining ease-of-use with the quality and detail desired to care for their horses.
EquineMax is available in two editions, Basic and Performance. Each of these editions has size options for ten or fewer, or an unlimited number of horses.
The Basic Edition keeps complete records including medical treatments, breeding records, unlimited pictures and pedigree information. The program also has income and expense tracking to simplify tax records and appointment reminders to ensure vaccinations are on time.
The Performance Edition contains all features included in the Basic Edition, with additional performance records for more than 12 disciplines, customized for each activity. This edition also includes special marketing features such as a sale catalog creator and web page export, enabling users to upload information directly to a website from EquineMax.
EquineMax 2006 is an easy-to-use, complete record keeping solution and marketing tool for all horse owners. The program is highly navigable from the main screen, and enables quick access to records and features. Extensive support resources are accessible at any time and the trained support staff can readily assist customers with any additional needs.
EquineMax is a new division of Cattlesoft, Inc., the leading cattle management software provider for thousands of ranches in 49 states and 26 countries. Cattlesoft has dedicated the same level of commitment to quality products and expert service to horse owners with a program that has been customized to meet their unique needs.
For more information on EquineMax 2006, or to request your free 30-day trial version, visit
http://www.EquineMax.com
or call toll free at (877) 6-EQUINE.
###