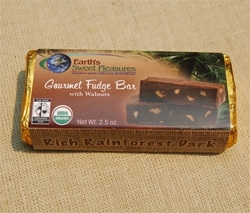 Roseville, CA, November 05, 2008 --(
PR.com
)-- The Rich Rainforest Dark Gourmet Fudge Bar from Earth's Sweet Pleasures (
www.earthssweetpleasures.com
) will be sold at the new Whole Foods Market in Roseville, California. Earth's Sweet Pleasures uses only USDA approved organic ingredients and Fair-Trade dark chocolate in their gourmet fudge.
The 2.5 oz. bar is made with USDA organic ingredients and fair-trade dark chocolate. The 65% bittersweet dark chocolate is grown on organic, fair trade farms in Central and South America and scored highest in the 2006 San Francisco Chronicle blind tasting for its rich flavor.
The "fudgemeister", L. "Hawk" Cargo, will be giving out samples of his famous fudge at Whole Foods Market in Roseville at 3:00 pm, Nov. 5th, during the Grand Opening. He has been making fudge the old-fashioned way for over 40 yrs. Two years ago he began experimenting with organic ingredients and created Rich Rainforest Dark and Classic Semisweet. Earth's Sweet Pleasures launched their products and their new website for fudge lovers in the beginning of 2008. The company's founders started Earth's Sweet Pleasures with the intention of creating delicious products from the bounty of the earth, giving back a percentage of the proceeds to organizations that support the farmers who grow the ingredients for their products. Earth's Sweet Pleasures is looking forward with great excitement to their new association with Whole Foods Markets.
###