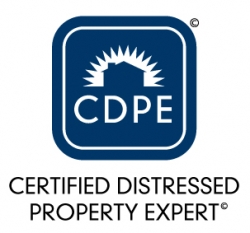 Santa Clarita, CA, November 22, 2008 --(
PR.com
)-- Jennifer and Gary Ricco of Keller Williams Vip Properties have successfully completed the Certified Distressed Property Expert designation. In doing so they have become part of a select few real estate professionals in the country to earn the prestigious certification offered through the Distressed Property Institute.
www.distressedpropertyinstitute.com
Jennifer and Gary Ricco are the only agents in the Santa Clarita Valley to hold this certification. The CDPE certification course is an educational program unlike any other professional certification or designation course available. It is specifically designed to provide real estate professionals the most up to date procedures and systems necessary to help homeowners who are in severe financial distress.
More than nine percent of the U.S. mortgages were delinquent or in foreclosure at the end of the second quarter of 2008. This astounding number is only expected to climb as more Subprime and ARM mortgages reset forcing homeowners already struggling to pay home loans and credit card bills into foreclosure.
Homeowners who are in the pre-foreclosure process need to speak with an educated agent as quickly as possible. For many homeowners foreclosure is not the only option however most do not get the opportunity to explore solutions. By dealing with an agent who has earned the CDPE designation, homeowners ensure that they are working with a real estate professional that is equipped to handle their specific needs.
"This real estate market has caused unbearable stress and heartache. As Certified Distressed Property Experts we will give our clients the expertise necessary to save their credit, relieve the uncertainty, and most of all help their families. We feel that education is key in this market with so much misinformation and foreclosure scams out there, we sought out this education to ensure we could properly help families get on the path to recovery." said Jennifer and Gary Ricco.
For more information contact
Jennifer and Gary Ricco
Keller Williams VIP Properties
25124 Springfield Court Suite 100
Valencia, Ca 91355
661.290.3837
www.santaclaritavalleyhomesonline.com
###