Wholesale Sunglasses Company Introduces New Traveling Sunglass Displays
CTS Wholesale Sunglasses today announced that it has introduced a range of traveling sunglass displays for dealers on the move.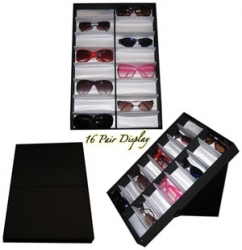 Salem, OR, June 23, 2006 --(
PR.com
)-- Kirk Bachelder of CTS Wholesale Sunglasses (http://www.CTSwholesalesunglasses.com) today introduced a range of new displays for the traveling sunglass dealers. This range includes the folding displays as well as the suitcase type displays that can safely carry the sunglasses and double up as an attractive display when opened.
"While the standard countertop displays look very attractive and do a great job of displaying the range of sunglasses, the dealers who travel to other cities or faraway fairs find it inconvenient to carry these bulky displays," reported Kirk. "We have introduced these handy folding and suitcase displays keeping in mind the need for a compact display that can be carried easily," he added.
The sunglass dealers can quickly setup shop at a fair or flea market and as easily, tear down the stall at the end of the working day. Similarly they can carry a few of these displays to bulk clients without any hassle.
It is very important to display the sunglasses in an attractive fashion so that the prospects can view the range and choose a few pairs to try on themselves and buy if they like them. These traveling displays make it easy for the dealers who are always traveling and cannot carry the bulky desktop displays.
CTS Wholesale sunglasses claims to take a complete view of the sunglass marketing function. It offers accessories and service kits that help the retail dealer to increase their per-order value while increasing the satisfaction level of the end-customers.
"There are a large number of attractive displays for the regular store-owners. We introduced these displays specially for our mobile dealers," signed off Kirk.
About CTS Wholesale Inc.
CTS Wholesale Inc. offers wholesale designer inspired sunglasses and accessories through its online store at http://www.CTSwholesalesunglasses.com. The owner, Kirk Bachelder loves to explore various new ways for its dealers to increase their sales and profit.
Contact Information:
Kirk Bachelder
CTS Wholesale Inc.
2791 Pence Loop S.E.
Suite #10
Salem, OR 97302
Phone: 503.364.3486
Fax: 503.589.4121
###
Contact
CTS Wholesale Sunglasses
Kirk Bachelder
503.364.3486
www.CTSwholesalesunglasses.com
CTS Wholesale Inc.
2791 Pence Loop S.E.
Suite #10
Salem, OR 97302

Fax: 503.589.4121

Contact