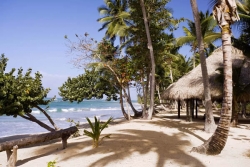 Punta Perla, Dominican Republic, June 23, 2006 --(
PR.com
)-- The Dominican Republic is becoming increasingly attractive not only to holidaymakers, but property investors too. Developments like
Punta Purla
resort, situated in Punta Cana on the eastern tip of the Dominican Republic, offer impressive tax breaks and guaranteed rental income. Something not even Brad Pitt could resist obviously, as the national press reports he is the latest celebrity to be found house hunting there. It's easy to see why too as this well-planned development sits on the beachfront, amid ten million square metres of prime
Caribbean real estate
and magnificent natural surroundings.
Punta Perla Golf, Marina and Spa Resort is located in the already well established Punta Cana area on the eastern tip of the Caribbean island of the Dominican Republic. The Punta Perla resort is set within 2,000 acres of prime land, while to the east some of the Punta Perla properties are beautifully situated alongside 5km of superb, unbroken white sandy beaches.
Punta Perla is being developed into one of the islands most prestigious overseas property investment resorts and boasts a wealth of exciting opportunities for foreign investment:
Punta Perla resort will offer its investors an 8% guaranteed rental income for a 5 year period, including all the tax incentives pertaining to off-shore investment.
Key Investment points of Punta Perla:
>Low refundable deposits
>70% finance available
>8% guaranteed rental income
>Freehold properties
>Direct flight access from UK, Europe and the US
>Exemption from personal, property and capital gains taxes
>Well established area
>3 signature golf courses
###