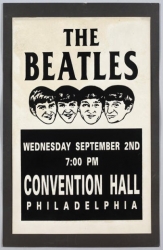 Huntington, NY, June 23, 2006 --(
PR.com
)-- The auction house "It's Only Rock n Roll" (www.itsonlyrocknroll.com) broke all the records in December 2004 when they sold a 1966 Beatles concert poster for $132,736.52.
Will they break the record again this year with this one?
This amazing 1964 cardboard poster advertising the Beatles' first visit to Philadelphia has the distinction of being the only-known venue poster produced to promote any of the 25 stops on their North American summer tour of 1964 and, as such, is the earliest known US Beatles concert poster.
How many of these cardboard posters were printed is unknown but we're aware of only three surviving examples. Chances are they were posted at Convention Hall soon after the concert was announced the previous April, but prior to tickets going on sale. The 7 PM start time was later revised to 8 PM.
This poster features a remarkable and striking graphic design, quite unlike the typical "boxing style" concert poster of the time that featured only plain text. The heading text "The Beatles" mimics the famous text style used on the Beatles' drum head and the pictures of the Beatles are the ones used on the 1964 Topps chewing gum boxes and chewing gum wrappers. It was thus designed to be instantly visible and recognizable from a distance. Even today, it attracts instant attention anywhere it is displayed.
No doubt about it - if you are looking for one of the most rare and sought after historical artifacts of the Beatles' very first year of touring the USA, this is the one item you should have.
The auction ends on June 24th at 11:00pm or 5 minutes after the last bid, so there's still time left to register. Be part of Beatles history and bid!
More information can be found at http://tinyurl.com/g9x8w
###