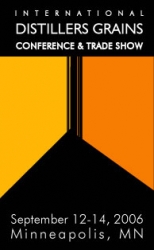 Minneapolis, MN, July 06, 2006 --(
PR.com
)-- BBI International, publisher of Distillers Grains Quarterly and Ethanol Producer Magazine—and host of the International Fuel Ethanol Workshop & Expo—has announced that the block agenda for the upcoming International Distillers Grains Conference & Trade Show (IDGC) is complete and online registration is open. The event is being held at the Hyatt Regency in downtown Minneapolis Sept. 12-14, 2006.
Themed "Educating and Empowering End Users," the IDGC is focused on the priorities of the companies that produce and market distillers grains, as well as those that buy and use the coproduct—primarily feed ingredient manufacturers along with livestock and poultry producers.
The IDGC is exclusively focused on industry issues related to distillers grains produced at dry mill ethanol plants. The conference will feature an ideal lineup of engaging general session speakers and category-specific breakout seminars. The IDGC will provide excellent opportunities for end users, producers, marketers, animal health professionals, researchers and service providers to network and build valuable new relationships in a booming feed ingredient business.
Conference Session Topics Include:
"Boundless Potential: Exploring the Future of Distillers Grains"
"The Feeding Frontier: Understanding New Era Recommendations"
"Consensus Building: Definitions & Analytical Measurement Standardization"
"Tailor Made: Innovation Brings Coproduct Customization"
"Hardball: Tough Questions About the Physical Characteristics of DDGS"
"Up to the Challenge: Syncing Production Capabilities with Customer Needs
"Beyond Feed & Fuel: Promising Alternative Uses for Distillers Grains"
"Maximum Theoretical Markets"
"What's Out There? DDGS Export Market Analyses"
Along with the latest IDGC block agenda, registration, sponsorship and lodging information is available online at
www.distillersgrainsconference.com
. All speakers will be announced online by July 21.
###