Chocolate Zoom Introduces You to Famous Chocolatiers
The absolute indulgence online magazine cools your senses this July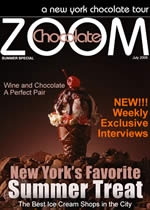 New York, NY, July 07, 2006 --(
PR.com
)-- The second issue of Chocolate Zoom, the monthly online magazine dedicated to chocolate lovers in the Big Apple and everywhere, cools off the summer heat by bringing more exciting articles about off-beat ice creams, socially responsible chocolates and it introduces its column weekly exclusive interviews with representatives of famous chocolate brands.
The first interview of the new "Hotspot of the Week" column is with La Maison de Chocolat's Nora Hovanesian-Mann, who talks about the company's history, the courses they offer to chocoholics, the future trends in the industry and La Maison's unique products and on why some of their chocolates are named after operas. This is the first of an original series of candid interviews with international entrepreneurs in the chocolate industry who offer insights into today's sweets business. Each week the magazine adds a new interview to this new section in order to keep the magazine more active and the avid reader more informed. Future interviewees include Martine Leventer, president of Martine's Chocolates (located on the 6th floor of Bloomingdales), Michel Richart, the owner and master chocolatier of RichART Paris and Kee Ling Tong, the owner of Kee's Chocolates (Soho, New York). Their passion and enthusiasm for chocolate and their knowledge of all topics related will render "Hotspot of the Week" into a small encyclopedia for the self-made connoisseurs.
The popular Sweet'n Healthy section brings in new evidence to those who want to live their life to the fullest food-wise, without feeling guilty or overwhelmed by nutritionists' warnings. The articles in this section contain tips of how to combine your wine with your chocolate, how to choose some appropriate chocolaty make-up, and how to make a perfect sundae.
Taking seriously its mission of outing the best chocolate makers, the magazine showcases successful independent confectioners such as Mariebelle and Sans Souci, which have emerged as front runners in the industry. Both chocolatiers distinguished themselves from the crowd by offering fresh, original flavors and paying attention to the aesthetics of the full package.
www.ChocolateZoom.com is an online magazine for chocolate lovers created by Zoom Media & Production.
###
Contact
Zoom Media & Productions
Cristina Jaleru
207-344-9284
www.chocolatezoom.com

Contact