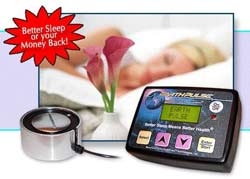 Stuart, FL, July 09, 2006 --(
PR.com
)-- EarthPulse Technologies' Sleep on Command™ substantially enhances performance of world class and amateur athletes while significantly improving their sleep.
Anabolic-androgenic steroids, blood doping and other banned athletic performance enhancing substances negatively impact athletic careers every day. Currently the Tour de France is in the news suffering through its worst scandal in recent memory. Several top riders were barred after being implicated in a blood doping scandal.
EarthPulse™ is a powerful, all natural ergogenic aid that provides unparalleled aerobic and anaerobic performance enhancement. Think of it as pure energy for the body.
"During the past 18 months this technology dropped an incredible 22% off an avid runner's 1/2 marathon, dropped 10%+ off a US Swim Team member's 200 meter event (2% and 3% off his 50 and 100 meter events), raised saturated blood oxygen (SAO2) 6% in an American record holder and increased strength, stamina and overall athletic performance in dozens of top ranked amateur and professional athletes" says EarthPulse Technologies' Product Developer Paul Becker.
Becker continued, "Two athletes weigh 190 lbs each and each can bench press 295 lbs. One goes on anabolic steroids, his weight balloons to 220 lbs. while his bench press increases to 335 lbs. The other athlete goes on EarthPulse™, maintains his body weight at 190 lbs. but bench presses 325 lbs. 9 times out of 10 the athlete would prefer to be the guy that is stronger as a relation to body weight. These are the types of strength enhancements that have become routine for our clients.
"Recently, we've discovered that nightly exposure to our patented electromagnetic system raises saturated blood oxygen (SAO2). Our small, portable $500 device is capable of raising SAO2 by as much as 3% during the first 8 hours of sleep vs. hours of training during several days on any number of expensive hypoxic (altitude) training aids. After two weeks of simply sleeping with the device, gains in SAO2 can be as high as 6%. Unlike hypoxic training aids, the oxygen related effects linger for days."
EarthPulse™ is completely passive requiring no effort besides turning it on before going to bed. Athletes receive a substantial yet covert advantage without compromising one single part of their training regimen. Stamina increases twice the % rate of maximal strength.
The company knew that use of the device would increase resting-breath-hold duration by about 20% within days, but were under the impression the effect was largely due to a more efficient O2 burn rate. "Now we know SAO2 has a lot to do with the gains being reported" said Becker.
"Our U.S. Swim Team member discovered that although he was able to hold his breath 20% longer, he was able to pull himself underwater 50% further on one breath, so there is something definitely going on that equates to efficiency in the O2 burn rate and/or ATP production by the mitochondria. That we are actually raising saturated blood oxygen is very exciting news. This effect is unprecedented in the scientific literature and makes hypoxic (altitude) training systems obsolete."
EarthPulse Sleep On Command™ emits a sequence of electromagnetic fields at frequency-specific tempos that gently tune down the mind and body enabling just about anyone to fall asleep faster, stay asleep longer and recover far better than what would be considered normal. More and more athletes are finding that better sleep and more O2 equates to unheard of gains and personal records within a few weeks.
To learn more about this truly remarkable performance enhancement breakthrough, visit the company website where you can browse an extensive database of more than 30 years of pulsed electromagnetic field (PEMF) journal studies and see amazing video case studies. EarthPulse™ and Sleep On Command™ are trademarks of the inventor Paul F. Becker.
EarthPulse® case studies and PEMF research are not intended to infer the use of our device as a product to eliminate disease or other medical conditions. The information herein has not been evaluated by U.S. Food and Drug Administration or by any other governmental health agency. Worldwide, there are no governmental health agencies that recognize a need to supplement natural magnetic fields. EarthPulse Technologies LLC makes no medical claims as to the benefit of the device and methods. EarthPulse® is strictly a performance enhancement tool that will substantially improve performance regardless of condition within a few days. Our products are not intended to diagnose, treat, cure or prevent any disease.
About EarthPulse® Technologies:
EarthPulse Technologies, LLC is a privately held biotechnology company specializing in the use of very weak electromagnetic fields to induce deep recuperative sleep, and enhanced mental and physical performance. Clients range in age from a 14 year old top ranked Girls Junior Tennis player, to men and woman well into their 80's. The company develops and manufactures in Bangalore, India and has thousands of satisfied clients in 14 countries.
Media Contact:
Paul F. Becker, Product Developer
U.S.A. +1.772.408.6100
INDIA +91.80.5190.3714
###