Got Luck? Not All Horseshoes Do
Good luck only comes with shoes that are taken, not thrown.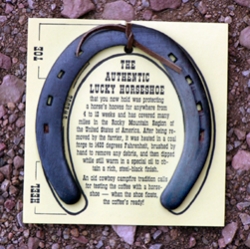 Livermore, CO, July 18, 2006 --(
PR.com
)-- Richard Klimesh, artist-blacksmith of Horsekeeping.com, sells horseshoes. Not to farriers, who nail shoes to horses' hooves for a living, but to common and uncommon folk all over the world who are looking for a change. You see, the shoes Klimesh sells are Authentic Lucky Horseshoes.
Why "authentic"? "For one thing," says Klimesh, "it's important that every Authentic Lucky Horseshoe was worn by a horse until it was removed." Legend has it that when a horse throws a shoe the luck is lost with it. "If you find a shoe that a horse has thrown, it might make a nice keepsake but it won't be lucky, no sir."
Klimesh knows horseshoes. He was a professional farrier for 17 years, shoeing horses for top trainers and veterinarians across the United States. With his wife, Cherry Hill, Klimesh co-authored the book Maximum Hoof Power and has written hundreds of magazine articles on horseshoeing. And he's a self-confessed packrat, saving thousands of horseshoes over the years. "I just hate to throw anything away," says Klimesh. "I've used horseshoes to make everything from fireplace tools to bottle openers. Then one day I got lucky and realized I had boxes and boxes of something everyone could use – good luck."
To prepare an Authentic Lucky Horseshoe, Klimesh first removes the old nails. ("Nail puncture wounds and scratches are definitely not good luck.") The shoe is then heated in a forge until it glows red hot, cleaned with a wire brush, and coated with protective oil. An attached card explains the history and legend of horseshoes and tells how to "read" a lucky shoe.
"Each shoe is very special," says Klimesh. "It protected a horse's hoof for 6 to 8 weeks against the abrasive ground of the Rocky Mountain foothills. Every rock the horse walked on made its mark on the shoe and every step added to the luck the shoe holds."
Authentic Lucky Horseshoes have been sent as gifts for just about every occasion imaginable, from house warming to bar mitzvah and were recently chosen as awards for the AsterFest Film Awards in Macedonia. "People in all parts of the world are looking for a little good luck these days," says Klimesh, "but what's really important is what you do with the luck once you get it."
###
Contact
Horsekeeping Books and Videos
Richard Klimesh
970-221-2948
www.horsekeeping.com

Contact