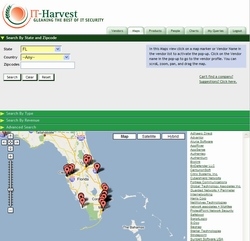 Birmingham, MI, July 19, 2006 --(
PR.com
)-- IT-Harvest, an independent IT research firm that provides comprehensive coverage of the IT security industry, has launched the first-ever tool that allows subscribers to perform their own IT industry research – http://knowledge.it-harvest.com.
The comprehensive tool provides views of vendors, products, and people in the IT security industry. There are over 830 companies, 1,600 products, and 2,200 people that have been entered into the database since IT-Harvest began developing the site in March 2006.
"This tool is used by IT-Harvest analysts to create in depth market research reports," says Richard Stiennon, Chief Research Analyst for IT-Harvest. "Now it is available to our subscribers as well so they can get up to date market analysis on their own."
An annual subscription to the IT-Harvest Knowledge Base costs $4,950, while research reports created by IT-Harvest analysts will be available at no cost. In addition to access to the database, subscribers get access to the analysts on an as-needed basis.
"This is a fundamental shift in the research business model," says Stiennon, "The traditional boutique firm charges thousands of dollars for individual research reports making them inaccessible to most people."
Subscribers and non-subscribers can do simple searches to find security vendors at http://knowledge.it-harvest.com as well as find links to the Threat Chaos blog and Threatcast podcast at http://www.it-harvest.com.
Richard Stiennon, Founder and Chief Research Analyst, is an industry expert and writes for multiple security industry publications and maintains the widely read blog at http://blogs.zdnet.com/threatchaos.
He also produces the weekly Threatcast podcast available on iTunes. He is responsible for setting strategic direction as well as editorial coverage for IT-Harvest.
Mr. Stiennon has 12 years experience in IT security including four years as VP Research at Gartner, Inc. where he covered security topics including firewalls, intrusion detection, intrusion prevention, security consulting and managed security services for the Security and Privacy group. He is a holder of Gartner's Thought Leadership award for 2003 and was named "One of the 50 most powerful people in Networking" by NetworkWorld Magazine. His speaking engagements have included conferences and meetings throughout North and South America, Hawaii, Tokyo, Tel Aviv, Istanbul, Milan, Munich, Hannover, Madrid, London, and Cannes.
IT-Harvest is based in Birmingham, Michigan. Its researchers and analysts are spread across the United States. For more information about IT-Harvest and interviews with Richard Stiennon, please call Franklin Dohanyos of Franklin Publicity, Inc. at 248/399-1101
###