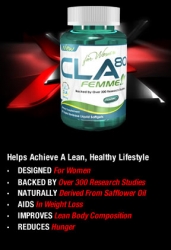 Toronto, Canada, April 01, 2009 --(
PR.com
)-- ALLMAX Nutrition just released the newest addition to their 'Femme' line; CLA80 FEMME™. This is an exciting addition to the FEMME line as numerous Gold Standard scientific studies confirm that CLA is effective for improving body composition and safe to use as a natural weight loss aid. Not to mention, CLA was recently approved by the FDA as a food product and regarded as safe for use in foods. CLA has been found to provide many health benefits; it plays a vital role in body fat reduction, is a potential anti-carcinogenic, aids in anti-aging and has been found to exhibit anti-diabetic effects.
Conjugated Linoleic Acid (CLA), an Omega-6 fatty acid, is naturally found in red meat and dairy products such as cheese and yoghurt. It is a naturally occurring ingredient that can safely be used for numerous health-promoting benefits. Recent research found that those who supplemented with 1,000 milligrams of CLA 3 times daily experienced a greater increase in lean muscle mass and greater fat loss reduction than the placebo group.
CLA has long been found to be helpful for weight loss and is the perfect complement for those looking to lose weight and reduce inches overall. The researchers at ALLMAX decided to create CLA80 FEMME exclusively for women to cater to the female population who need that extra edge in their weight loss quest.
"Any woman who wants to lose weight should try CLA80 FEMME. Its non-stimulating formula is excellent for all women and is particularly beneficial for women looking to lose weight around their abdomen," explains Kristine Hughes, Online Marketing Manager and avid user of CLA.
CLA80 FEMME™uses premium grade 80% Pure Conjugated Linoleic Acid. Naturally derived from safflower oil, CLA80 FEMME provides 80% of the key isomers scientifically proven to improve body composition, decrease body fat and improve body shape. CLA80 FEMME is the proven addition to a lean, healthy lifestyle.
According to Jason Bell, the director of marketing at ALLMAX Nutrition, what really sets CLA80 FEMME apart from many of the CLA brands on the market is that it is derived from safflower oil and not sunflower oil.
Jason says "Many other supplements may use sunflower oil as it a cheaper way to derive CLA. However, sunflower oil does not produce as much active CLA. Safflower oil contains 80% CLA while sunflower oil only provides 40% of active CLA. CLA80 FEMME contains 100% safflower oil and provides 80% of the key CLA isomers."
Why CLA80 FEMME?
CLA80 FEMME is a safe, natural and effective way to maintain a healthy body weight while following a healthy lifestyle. This effective, healthy and non-stimulating fat loss solution can promote the body's natural fat metabolism making it easier to get in shape.
CLA80 FEMME can also be found online at ALLMAXNutrition.com. It retails for approximately $13.99 for 60 rapid release liquid capsules. CLA80 FEMME is backed by ALLMAX Nutrition's 100% Money back-guarantee. If you are not completely satisfied with this product you can return it for a full money-back guarantee within 30 days.
Find out more about CLA80 FEMME at:
Media Contact:
ALLMAX Nutrition
Kristine Hughes
khughes@allmaxnutrition.com
www.ALLMAXNutrtion.com
416.223.6861
About ALLMAX Nutrition
The ALLMAX Nutrition brand stands for Science, Innovation, Quality, and Results. ALLMAX Nutrition is known for its high quality and extremely effective line of cutting-edge sports nutrition products. Every product contains only the highest-quality and most-pure ingredients from around the world. ALLMAX believes in dedicating themselves to strict policies of quality in manufacturing improves all aspects of the ALLMAX supplement line. Most importantly, the quality of the products leads to results that have made ALLMAX the top choice for personal trainers, professional and amateur athletes and hard-training weight lifters.
###