Las Vegas Real Estate Sales Tops in North America
Prudential Americana Group's Las Vegas Teams & Offices Recognized as Best in North America.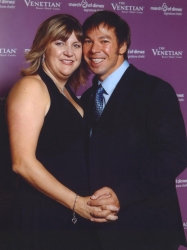 Las Vegas, NV, April 02, 2009 --(
PR.com
)-- Amidst one of the most challenging housing markets Las Vegas has ever seen, Prudential Americana Group Realtors is still finishing at the top. The company, Nevada's largest real estate firm, was recently recognized for having four of the Top 10 teams and three of the Top 10 offices throughout Prudential's North America network in 2008.
During Prudential's annual Real Estate convention this week, Prudential Americana Group's Sahara office was recognized as the #2 office in North America for residential real estate units sold. Its Green Valley office was #5 and its Southwest office was #10 among thousands of offices throughout the Prudential network.
"This is a huge honor and accomplishment for everyone in these offices as well as their management teams," said Mark Stark, CEO of Prudential Americana Group. "It is one more way we show that working with a Prudential agent in Las Vegas is the best decision you can make when buying or selling a home. We work hard and it shows in our results."
Four Prudential Americana Group teams were also recognized at the convention for achieving top sales throughout the North America. The McCollough Group was the #1 real estate team among all teams in the Prudential Network for residential units sold. William Jorgensen, LLC was #3 and The Steve Howell Team had the 4th largest number of units sold. The Shapiro & Sher Group was also recognized as having the 3rd largest gross commission income among all teams in the Prudential network.
"To have four of Prudential's top ten teams in Las Vegas is an extraordinary feat and shows the dedication they put forth for their customers each and every day," said Stark. "There has been no real estate market more challenging than Las Vegas over the past two years. For these teams to rise above the challenges and continue selling homes really shows their talent and tenacity."
Topping off Prudential Americana Group's accomplishments, the company was recognized as being the country's 4th largest contributor to its Sunshine Kids Foundation with more than $104,000 in donations last year. More than 650 franchises throughout the United States, Mexico and Canada contribute regularly to Sunshine Kids, an organization that helps children who have cancer.
"We have also achieved Top Ten status as an organization, and are now the 8th largest Prudential affiliate among more than 650 country-wide," said Stark.
Concurrent with the convention, Prudential Americana Group recognized its "Top Of The Rock" individual sales executives and teams in Las Vegas, as well as Employee Of The Year Rebecca Smith. Smith is a marketing coordinator in the company's corporate office.
Top of the Rock Individual
#1 – Jana Shore
#2 – Eileen Engel
#3 – Jill Lorenz
#4 – Nichole LaVigne
#5 – Len McGuirk
#6 – Ginnie Mollner
#7 – Judy Boughrum
#8 – Therese Tordjman
#9 – Jay Tarvin
#10 – JoAnne Federico
Top of the Rock Teams
#1 – Shapiro & Sher Group
#2 - The McCollough Group
#3 – The Steve Howell Team
#4 – William Jorgensen, LLC
#5 – Carver Team
#6 – Lopez Group
#7 – Christopher Koman
#8 – Tonnesen Team
#9 – The Woolston Team
#10 – The Vandenbergen/Doyle Team
Prudential Americana Group is Nevada's largest real estate company with more than 1,100 sales executives and approximately 2,200 current home listings. It is an independently owned and operated member of Prudential Real Estate affiliates and is the 8th largest in the company's national network of 650 franchises.
###
Contact
Prudential Americana Group
Sarah Thornton
702-239-0785
http://www.americanagroup.com

Contact