New Software Helps Arabic Learners
Kairos Information Technology and the American University in Cairo have released Modern Standard Arabic Verb Clinic (R), the latest in the Vocab and Verb Clinic series of software. This software helps meet the growing demand for Arabic learning, giving vocabulary, audio files, voice recording, and self-quizzing capabilities.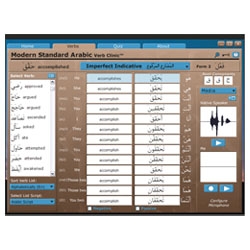 Cairo, Egypt, July 25, 2006 --(
PR.com
)-- Kairos Information Technology has completed its latest innovative tool, Modern Standard Arabic Verb Clinic, designed to help you master the intricacies of verb forms and usage in the formal Arabic. The company's cutting edge software opens the world of Arabic verbs at a whole new level never explored before. With over 20,000 verb conjugations, this is a powerful, easy-to-use training tool that enables you to master the writing and pronunciation of 200 key Arabic verbs.
Unlike other Arabic Language Software, Verb Clinic is equipped to record and compare your own pronunciation, repeating as often as needed. With the aid of CD-quality digital recordings of each word by a native speaker, and sound waves for each conjugation, it provides both visual and audio feedback which creates a whole new language learning experience.
"Kairos InfoTech has raised the bar in the world of Arabic study...it doesn't have the hindrances found in so many other programs," says Nevine Maassarany, long time language student. "A few weeks spent using this program gave me a handle on the language that impressed many Native speakers!"
A survey by the Modern Language Association showed a 92.3 percent increase in the number of students studying Arabic at U.S. colleges -- to 10,584 -- between 1998 and 2002, the latest numbers available. "And that's probably doubled by now," said Matthew Stroud, the director of language at Trinity University.
Modern Standard Arabic is written and spoken in every part of the Arab world, so this software has no limits. The program is widely used among independent learners, in classroom settings, by teachers of Arabic, and businessmen and women alike who are actively involved in the Middle East. A customizable quiz generator has been built into the software, allowing you to track your own progress and test yourself.
In 2004, Kairos Information Technology and the American University in Cairo Press formed a strategic partnership to produce and distribute Arabic-teaching consumer software. This includes distributing the most recent "Modern Standard Arabic Verb Clinic" (spring 2006) as well as "Modern Standard Arabic Vocab Clinic" (released spring 2005) and "Egyptian Arabic" (released Fall 2004).
"The inspiration for the Vocab Clinic and Verb Clinic series came from my own process of learning Arabic and helping others to learn," says Andrew Dempsey, founder of Kairos Information Technology. "As I spent time communicating in Arabic, I realized that one of the biggest difficulties I faced was my lack of vocabulary. When I would take time to fully understand new words, commit them to memory, and perfect the pronunciation, I found that my ability to understand what was being said to me and to clearly communicate back what I wanted to communicate increased exponentially. This was my own 'clinic' approach. When I found it also worked for other people, I formed a team that could turn it into a software package."
Verb Clinic is currently available in many bookstores, and can be found on amazon.com. It can also be purchased and downloaded directly from
www.learn-arabic-now.com
###
Contact
Kairos Information Technology
Heidi Sifein
+202-268-4879
www.kairosit.com

Contact