Bahiyah Shabazz Discusses Pre-Marital Consultation of Finances
Bahiyah Shabazz educates others about personal management and living within your means. Shabazz encourages her pre-marital couples to uphold the vows of marriage and disclose financial information and goals.
Merrillville, IN, April 25, 2009 --(
PR.com
)-- Bahiyah Shabazz, prolific writer and consultant, writes a book that recognizes Finances are linked to Emotions.
"When you marry one another, so does your finances," Bahiyah Shabazz, a Consultant, says to each person considering taking vows.
Shabazz discusses the tools to eradicate debt. More importantly, the need to identify the emotions revealed in order not to have a repetitive behavior towards liability.
Consultations focus on pre-marital discussions to merge items, beliefs and finances. The discussion on finances is extremely important to make a marriage successful.
Shabazz discloses many couples that share the same bed, but are Financially Divorce. Although divorce has a negative connotation, it isn't the end of a relationship. However, the beginning of a separate ledger. It's pertinent to have pre-marital consultations to properly marry finances.
In fact, Shabazz frequently educates about living within your means and arranging a household budget. She will continue to talk to pre-marital couples about having an emergency fund and household savings. In the end, a routine financial checkup as a couple will lead to a happier marriage.
###
Contact
Shabazz Management Group LLC
Bahiyah Shabazz
800-756-1958
www.bahiyahshabazz.com

Contact
Multimedia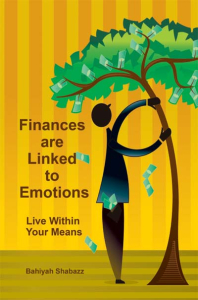 This book discusses personal management and strategic planning of self and goals. Emotional spending is consumed by individuals and businesses. It's time to control and understand your behaviors.