Dolce Mia Introduces Vintage-Themed Lotions for Gift Giving and Personal Use in Today's Economy
Consumers are returning to the simple pleasures, and Dolce Mia Designs of Sonoma County, California is benefiting.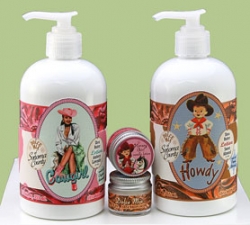 Sebastopol, CA, June 30, 2009 --(
PR.com
)-- Riding the wave of nostalgia, and appreciation of affordable luxuries, Dolce Mia Designs of Sonoma County California is enjoying a growth year. The company's line of natural soaps, introduced last fall, captured the imagination of the country and became a best-selling gift item in stores everywhere. Not only are the vintage designs great looking, but the made-in-USA natural soaps themselves are wonderful to use, satisfying the nation's need for unique gifts that are sure to be appreciated as well as for feel-good products that add pleasure to life.
But where are the lotions? everyone asked. What a perfect match they would be, they said.
Good things take time…and now the lotions are here. Available in fourteen vintage-inspired themes, such as Pin-up, Cowgirl,Ccowboy and Hawaiian, and in eight original fragrances like Pikake, Tuberose, Leathery Western and Sweet Almond, Dolce Mia's lotion is a thick, creamy shea butter blend infused with organic botanical extracts, vitamin E, almond and sunflower oil.
Estheticians and spa-specialists were consulted on everything from ingredients to pricing to ensure top-quality, affordable luxury for all. The resulting lotion is suitable for the most discerning tastes and the sensitive skinned. In addition to a 12 oz. pump bottle, the company also offers a travel size jar, which with its retro tin lid and wood-grained outer wrapper is itself a triumph of original packaging.
Intriguingly, Dolce Mia's packaging was designed with customization in mind. The canvas bands, where most of the design appears, are digitally-printed, making it relatively easy to add text, a logo, or even to create entire new designs. Personalized wedding favors, corporate gifts and a fundraising program for volunteer firefighter departments are just a few of the ways that this ease of customization has been explored so far.
Early adopters of Dolce Mia's beauty line include the iconic Fred Segal in Los Angeles. International buyers are also beginning to take note. Dolce Mia has captured the attention of the Japanese cosmetics market and will soon be distributed throughout Japan.
Dolce Mia's lotions and full line of beauty products and gift items can be viewed on-line at
www.dolcemia.com
.
For more information please call 888-929-0440, contact Alex Mountjoy at a.mountjoy@dolcemia.com,
About Dolce Mia Designs:
Founded in 1995 by the designer Jenny Mountjoy, Dolce Mia manufacturers design-based products for the health, beauty and gift markets. Dolce Mia is located in the northern California city of Sebastopol, about an hour and a half north of the Golden Gate Bridge. Alex and Jenny live nearby with their two sons and five sheep. The Mountjoys are fans of wine, cheese, local art, farmers markets and time in the garden.
###
Contact
Dolce Mia Designs
Alex Mountjoy
707.823.4032
www.dolcemia.com

Contact
Multimedia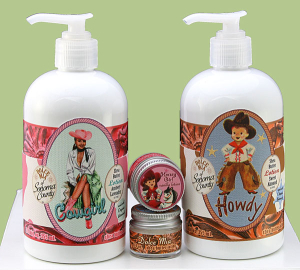 A couple of examples of their lotions bottles and travel size jars in Western theme.
A discussion of their lotion ingredients, soaps and the Dolce Mia company philosophy, by their founder and designer, Jenny Mountjoy.