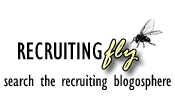 Trumbull, CT, September 06, 2006 --(
PR.com
)-- The "recruiting blogosphere", a community of blogs written by recruiters and human resources professionals, is gaining traction among a leading group of web savvy recruitment professionals. Each week, a dozen or more
recruiting blogs
are being launched with hopes that the blog will help lure new talent and fill the candidate pipeline.
"With a shortage of qualified candidates across many industries, recruiters are finding it hard to lure top performers", says Chris Russell the founder of RecruitingFly.com, a recruiting blog directory and search engine. "Therefore they are turning to blogs as a way to increase their firms awareness, recruit job seekers and sign new clients. Many recruiters see blogs as a way to stand out in the 21st century job market", adds Russell.
The results have been paying off. Many bloggers have reported a variety of benefits associated with starting their blog. Among them are:
Increased traffic to their web site
Unsolicited resume submissions
Strategic partnerships/new business
Positive, interesting discussion within the recruiting community
In a few cases some bloggers have even had their blog purchased! Jobster recently bought recruiting.com. Earlier this year, CollegeRecruiter.com acquired Jim Stroud's blog for job seekers.
More and more recruiters are discovering the advantages of blogging in the job market. From HR directors to Third Party Recruiters, the recruiting blogosphere is growing and the party's just begun.
About RecruitingFly
RecruitingFly.com is a free directory and vertical search engine for recruiting & HR blogs. Users can browse a list of blogs, read their latest posts and conduct keyword searches across all the blogs in the industry. The RecruitingFly.com search engine crawls the blogs nightly and indexes their content. We are the "fly" on the walls of recruiters.
###