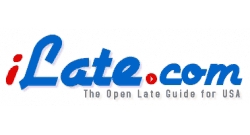 Los Angeles, CA, September 07, 2006 --(
PR.com
)-- www.iLate.com is a useful new website, which supplies users with a searchable database of local businesses that are open much later or much earlier than their competitors. www.iLate.com is the only website of its kind in which users can search local businesses by their open hours. Businesses are searchable by category and by their days and hours of operation.
The website lists businesses that provide the 'necessities' of life, such as pharmacies, supermarkets, walk-in clinics, libraries, internet cafés, grocery stores, restaurants, pet shops and post offices.
Featuring maps and web links to most of the institutions listed, www.iLate.com is very user-friendly; it is even accessible via cell phones at wap.iLate.com and mobile devices at mobile.iLate.com.
iLate's creator, Sutha Subra, developed the website in May 2006 for Canadian locals and travelers, who could not shop during conventional hours. By July 2006, all major Canadian cities were available at www.iLate.ca. The US site www.iLate.com now serves Los Angeles, San Francisco and San Jose. In the coming weeks, Subra plans to add New York, Chicago, and London (UK) to his growing database. More major US cities will follow, and Subra aspires to continue the worldwide expansion of his database with listings for Australia and New Zealand, in the near future.
With its unique service and one-of-a-kind database, iLate will surely prove indispensable to nighthawks and travelers alike.
###