A Stunning New Memoir Called Liongold Was Recently Published, Which Will Appeal to Everyone Interested in Issues of Race Relations, Human Rights, or African History
Liongold is Bea Alden's personal account of daily life in South Africa in the era of apartheid. Readers will be riveted by Alden's faithful descriptions of what it was really like to live under this coldly deliberate experiment in total segregation.
Tonasket, WA, August 28, 2009 --(
PR.com
)-- Liongold: a vivid account of the life of a troubled white family during South Africa's pivotal years of apartheid. The family lives in the suburbs of Johannesburg -- a tall, lively city founded on a vast wealth of gold that is mined night and day by an army of black laborers deep underground.
No-one in this society, white or black, escapes the effects of the rigid apartheid regime. There are rules, written and unwritten, not only about race, but about the significance of class and money, about the roles of men and women.
An attractive young couple, Jack and Peggy, automatically think of themselves as English, although they were both born in South Africa. They quietly accept the color barriers that rule South African society; for in this era, it seems natural for whites to exploit the dark people of the world. Their family, complete with a small son and daughter, and Letty, the black maid, presents a charming outward picture of suburban domesticity.
But in truth, all is not well, for Peggy is unhappily engaged in a perpetual struggle to keep secret the dramatic periodic upheavals of Jack's bipolar illness. The question, "What will people think?" looms over every thought and action, trapping the two growing children in a bewildering web of secrecy, rather like the dense spider-web woven over the darkest deeds of apartheid.
Liongold is available via the website:
www.bzlionbook.com
###
Contact
BZ DZYNZ
Bea Alden
509-486-1958
www.bzlionbook.com
P. O. Box 1172
Tonasket, WA 98855
USA

Contact
Multimedia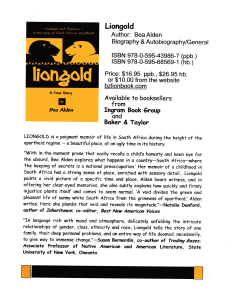 Detailed Book Description, reviewer comments and availability.